Home Care and Diabetes Foot Care
by AAA T.L.C., on Oct 19, 2020 12:12:33 PM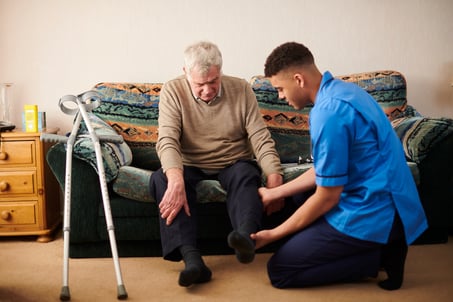 Diabetics are at special risk for developing foot issues. Ignored or poorly treated, a minor foot problem such as an in grown toe nail or cut can turn into a major health issue requiring hospitalization or even amputation. AAA T.L.C. Health Care nurses and caregivers can help reduce this risk.

With diabetes, damage to the blood vessels causes poor circulation and this can be especially true in the feet. The result may be ulcers, or sore spots, that are prone to infection and slow to heal. Proper foot care with the help of a trained professional reduces the potential for permanent nerve and circulatory damage.

AAA T.L.C. home care providers help keep diabetes in check, whether on a short term or long-term care basis. In addition to blood glucose monitoring, we also assist with grocery shopping and preparing meals that help keep blood sugar levels within target range.

Our home health caregivers help clients with diabetes check their feet for signs of trouble. We can look for red spots, blisters, cuts, and swelling in spots the client may be unable to see. And we perform these checks daily.