In-Home Care for Cancer Patients of All Ages
by AAA T.L.C., on Oct 19, 2020 10:59:19 AM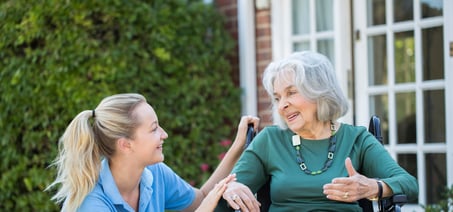 Living at home with cancer can be difficult, but it's where most people want to be while battling the disease. Home health care providers from AAA T.L.C. Health Care Inc., can be invaluable in helping these patients lead normal lives at home with their families. Whether long term care or short term, we provide a wide range of medical, psychological, and social support, from full-time companions to on call nurses and everything in between.

There are two levels of home care, both furnished by a care giver agency such as AAA T.L.C.:

Custodial Care: Sometimes referred to as non-skilled home health care, these workers include home health aides and certified nursing assistants who help with bathing, dressing, going to the bathroom and other daily activities. They can perform light housework, pet care, and shopping, tasks that can be very exhausting for cancer patients. Also included in this category are companions, who read, talk and, most importantly, listen to the client. They bring a sense of normalcy to the home, engaging in recreational activities and hobbies.

Skilled caregivers have received special training in caring for cancer patients. Registered nurses and other highly trained professionals deliver advanced home health care, such as monitoring medications, performing assessments, and implementing therapeutic procedures. These advanced home care providers form a sturdy medical bridge between the oncologist and the homebound patient. In years past, this level of care was available only in a hospital or nursing home.

Additionally, AAA T.L.C. has drivers available to help when transportation needs are required.

Call us today at 1.844.422.2852 for your FREE in person Patient Care Assessment.