Technology and What it Could Mean to Senior Care and Home Care in the Future
by AAA T.L.C., on Oct 19, 2020 11:05:30 AM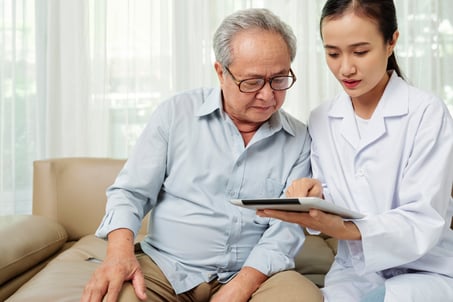 AAA T.L.C. is always trying to improve our client's well-being. This new exciting technology which has recently been approved by the U.S. Food and Drug Administration might just be the godsend needed to help our spinal cord and paralyzed clients.

Do you remember the 1970's TV shows "The Six Million Dollar Man" and "The Bionic Woman?" If you don't the premise of the shows had astronaut Steve Austin and tennis pro Jamie Sommers "rebuilt" with experimental cybernetic technological body parts developed by a secret government agency after they were severely injured in accidents (of course they were then recruited as covert field agents who used their enhanced "powers" to help win the Cold War).

Flash forward to today and cybernetics have actually been developed to help those who have lost the use of body parts. While these replacement parts don't have the look and feel of our own body parts as pictured in science fiction, they are nonetheless scientific marvels.

One recipient of cybernetic technology is Marine captain Derek Herrera, paralyzed from the chest down by a sniper in Afghanistan. Last month Capt. Herrera, using the ReWalk system developed by ReWalk Robotics Ltd., was able to "walk" across the Camp Pendleton parade ground in San Diego to receive his Bronze Star for bravery.

According to the Associated Press the ReWalk system, which can be used at home and in the community, is a "robotic exoskeleton system aimed at allowing people with spinal cord injuries to stand and walk." The device consists of leg braces with computer-based motion sensors and motorized joints that respond to subtle changes in upper-body movement and shifts in balance.

While this life changing technology is still in its infancy outcomes already indicate potential improvements in cardiovascular health, loss of fat tissue, building of lean muscle mass, and improved bowel function by those who are using the system.

ReWalk, developed by Dr. Amit Goffer, an Israeli inventor who himself is a quadriplegic, is designed for daily use in places such as home, work, at indoor and outdoor events as well as on different surfaces and terrains.

AAA T.L.C. will continue to monitor ReWalk and other similar companies as these first steps in cybernetic technology begin to fundamentally change the health and life experiences of those in need.